Martin Scorsese's Hugo is a cross between The Artist and Extremely Loud and Incredibly Close (all three are Oscar-nominated for Best Picture this year).
It's Paris in 1930s, and Hugo Cabret (Asa Butterfiled; The Boy in the Sriped Pyjamas), is an orphaned boy living behind the clock-face in Gare Montparnasse railway station. His everyday routine is to wind the station's clocks (in place of his missing uncle, the station's clock-winder), and try to evade the railway inspector (Sacha Baron Cohen; Bruno), lest he wants to be thrown into an orphanage. And from time to time, Hugo also tries to steal mechanical parts from an old toy owner (Ben Kingsley) to fix his Automaton-- a creepy mechanical man left behind by his late father (Jude Law), in the hopes that once the Automaton works, he'll receive some sort of a message from his father so that he wouldn't feel so alone anymore. Like Oskar Schell in Extremely Loud and Incredibly Close, Hugo is seeking closure for the abrupt and unexpected death of his father. However, no matter how unbearably irritating Oskar Schell was, he's got more personality and depth than the dry and blank-faced Hugo, whose strikingly blue eyes are the only interesting thing about him.
Visually striking as it is, the movie (based on Brian Selznick's bestselling novel
The Invention of Hugo Cabret
) offers zero emotional involvement. Paris in 1930s is charming and magical,
yes
, but the story is hollow. The narrative is messy, going in awkward directions, and swinging from one subplot to another. The characters are bland. Sacha Baron Cohen brings a little life and laughter in the movie,
yes
, but the mysterious George Méliès, the toy owner played Ben Kingsley, is the
only
engaging character-- you can see through the broken man.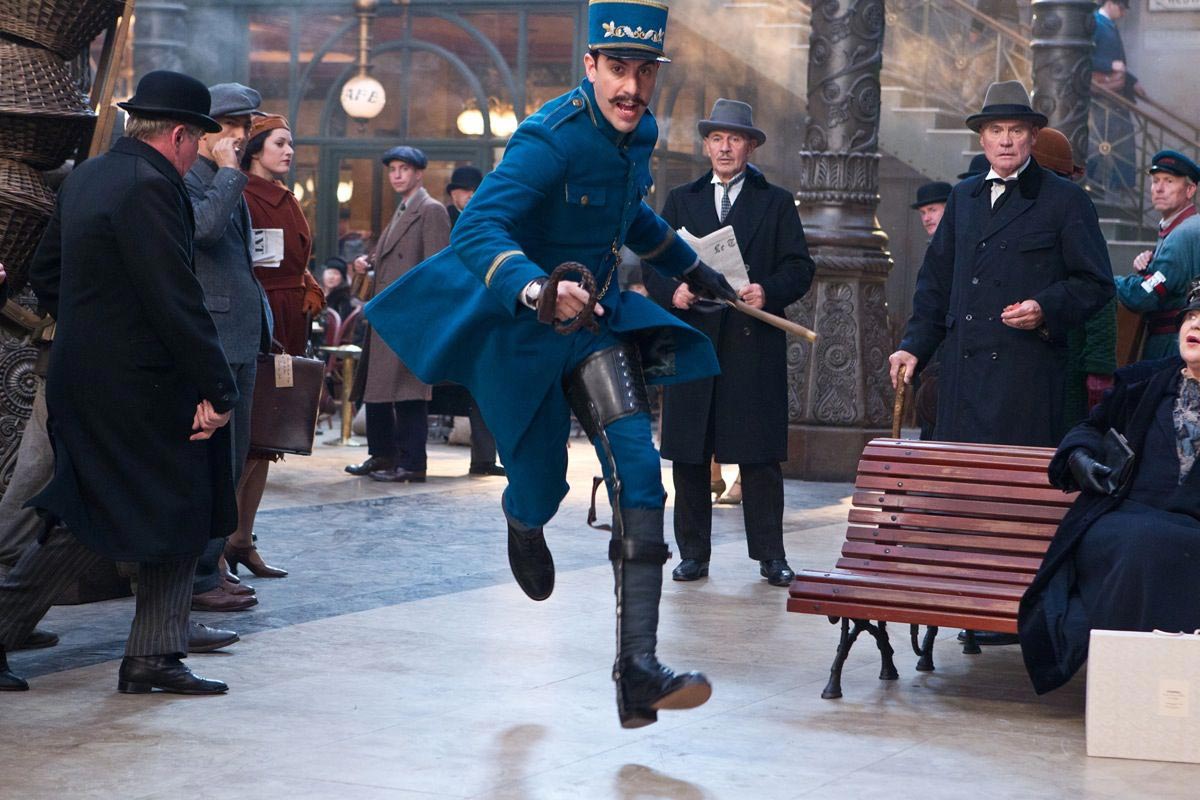 Sacha Baron Cohen as the Squeaky Inspector
Hugo's discovery and the secret behind George Méliès is the obvious reason why the Academy of Motion Picture Arts and Sciences nominated Hugo for Best Picture. I'm not going to give spoilers, so you have to watch the movie or read spoiler-riddled movie reviews. Yes, the revelation of George's secret had woken me up from my stupor, momentarily delighting me, as I am passionate about the subject. But because of the messy storytelling, the entire movie is still underwhelming. Like I said, it's a weird merging of The Artist and Extremely Loud and Incredibly Close, not weaved smoothly together, scattered and a bit confused.
Kingsley as the mysterious toy owner with a colorful past.
The movie's visuals are gorgeous and brilliant, and the story of George Méliès is tragic and beautiful. But Hugo, at its core, is supposed to be a magical and adventure story-- and sadly, it failed to touch and sweep me off my feet, made even worse by the unnecessary 3D. Plainly speaking, the movie is boring and off. Without the abrupt twist to George Méliès' story, the movie would be soulless and irritating.
The only lingering part of the movie for me are the following lines from the blank-faced Hugo:
"If you lose your purpose, it's like you're broken."
"I'd imagine the whole world was one big machine. Machines never come with any extra parts, you know. They always come with the exact amount they need. So I figured if the entire world was one big machine, I couldn't be an extra part. I had to be here for some reason. And that means you have to be here for some reason too."
1.5 out of 5 stars
In Philippine cinemas on February 15, 2012.